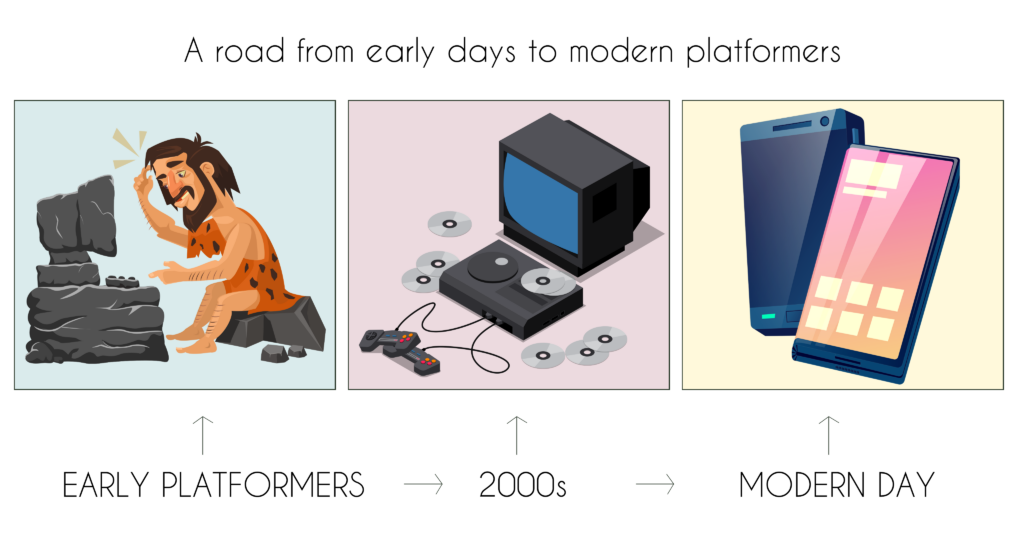 Today we talk about platformers! And not just any, but one-click platformers, or as some call them, one-button platformers!
What are platformers?
To answer that, let's go back to our childhood, or, for some of you, ancient history when your parents used to play games! We are all familiar with the game called Super Mario Bros, right? Super Mario is an example of one of the world's most successful platforming video games. If you've never played this one, the chances are you are at least familiar with the name of it!
In games like these, a player can walk, run, jump, and in some of them can also attack or use items. When we think about platformers, we usually think of 2D video games where a character moves from left to right and tries to beat the level. The development of technology made it possible to expand such ideas into a 3D world making the games more complex and diverse.
But, we all know smartphones took over the world! Hence, platformers found their way to become fresh lately as well. At first, we saw an expansion of runner-type games, especially those called endless runners. Temple Run, Subway Surfers, or even Sonic Dash, a classic renewed and refreshed made for smartphones, are great examples of such games. Even the fan's favorite character, Crash Bandicoot was recently made into a smartphone version called Crash Bandicoot: On the Run!
What are modern platformers? And why play them?
All these games share the basic design of every platformer game, but they are also trying to add something new every time. So that's how we came to one-click platformers! And it all makes sense when you think about it. Smartphones are having more and more screen and less, or no buttons.
By using rhythm and visuals we witnessed the coming and rise of an excellent Geometry Dash! This game excels at the core of what makes a great platformer on a smartphone screen! I'm quite sure most of you already know about Stereo Madness, the first level of Geometry Dash, the one we all had to learn our ropes into this genre! 😁
Now, rhythm-based gameplay and one-click mechanic seem to have their limits, just like everything else, so, we have stumbled upon another great idea! How about instead of using one finger to click a perfectly timed jump we make this thing just a liiiitle bit more complicated and try to use two!
Just think about it, drummers don't play the same thing over and over with their hands and feet, they have to use their limbs separately and that's exactly why the rhythm is so interesting! Two fingers and two completely independent characters, or in this case space discs can be controlled with two different fingers.
So, taking a rhythm-based one-click platformer up a notch and making it, hm, let's say a two-click-platformer could be the game you've been looking for! Space Geometry Challenge: Neon Galaxy Running does it all, the rhythm, the timed jumps, easy to learn but hard to master gameplay, and a very cool neon design all set in outer space!
Are you a fan of one-click platformers? What about platforming games in general? Would you be interested in a little more challenging version of that? Give this one a try and tells us what you think!
Tips
These types of games require great hand-eye coordination, so be ready to fail many times before succeeding! Fast-paced gameplay means there is going to be a lot of trial and error. Doing the basic levels is the best way to start your journey. I suggest passing all 10 levels from the first world before moving to more challenging maps, like Daily Challenge for example.